Magento is a feature-rich, professional open-source eCommerce system written in PHP, that offers merchants complete flexibility and control over the look, content, and performance of their online store. Magento's perceptive management interface involves effective marketing, search engine optimization, and directory management tools to provide merchants the power to develop sites that are bespoke to their particular business requirements.
Cloud MLM software can be integrated with this e-commerce platform and it is designed to be completely extensible and supported by a comprehensive support network and offers the ultimate eCommerce solution. Our Magento open source solution has become the most demanding open-source platform of today's online retail store businesses for it provides a great benefit. With Magento Ecommerce Platform, online store owners are being given the power of handling multiple stores and facilitate more standardized browsing of items for sale. Upgraded management of client's orders and having more developed promotional or advertising tools also becomes feasible with our Magento eCommerce.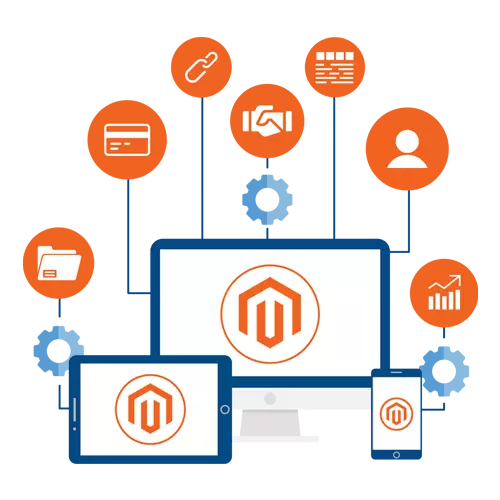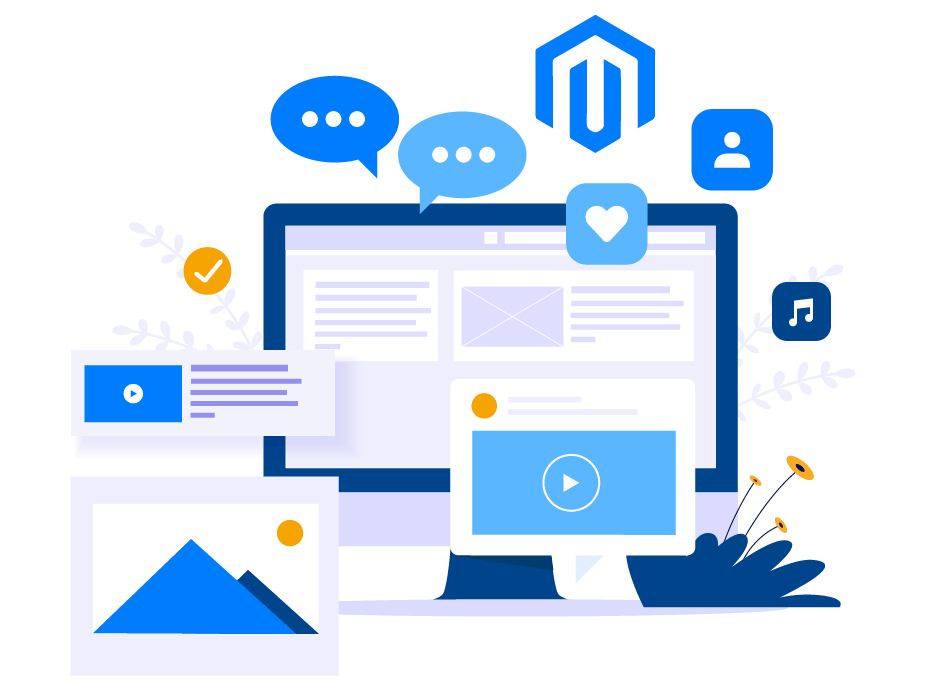 Importance of

magento integration
It is the fast, reliable, and secure way to you integrate business applications
Integrate with content management system [CMS]
Using this we help you to manage customers, customer addresses, products, and inventory and retrieving sales orders.
It has better control over accessible customer data and successfully manages online marketing campaigns.
It minimizes job loss data entry errors, efficiently managed products, and makes improved business decisions.
It includes a powerful payment gateway, increases SEO rankings, Advanced Reports, and many other features.
Features
We help you to distribute the right product to your clients, based on their needs like when, how they want the products, with a truly allied shopping experience.
The Magento APIs help to keep up for both representational state transfer [REST] and simple object access protocol [SOAP].
We help you to direct instructions and catalog allotment centers, stores and crash ship partners, and more.
We coordinate your customer experience across all sales and execution channels, gathering information from each and orchestrating the best policy and processes for each individual orders.
Through the Magento system, we give you an explanation for numerous execution centers that is flexible and fast to apply.
Our Magento system helps you in order management, inventory management, tax and scheme, payment, and analytics capabilities
Today, Magento has become the most of the adopted choice for medium, large and huge numbers of merchants. It comes with a variety of ideas and developments that easy to work with on their platform. It gives online merchants with different modules that are flexible and that has powerful contents that the merchant can change to order his or her requirements based on the appropriate features.
Moreover, these open-source technology that has an effective online marketing capacity with easy to search tool optimized to suit each business' needs. It is totally extensible and generally used 6he system because of its support and its customizable nature.
An integration allows mediator services to call the Magento web APIs. The Magento APIs presently supports Enterprise Resource Planning (ERP), Accounting, Customer Relationship Management (CRM), Product Information Management (PIM), and marketing automation systems out of the box.
×
Cloud MLM
Software Features
The software has basic features and pro features that help to run your MLM business at a faster rate than previously.
---