Who doesn't want to look stunning and glamorous? I was debating over beauty products with my mom who doesn't allow me to spend a single penny on cosmetics. From the minute I started earning, the first thing I bought was a basket full of my favorite lipsticks.
Be it a night out with my girlfriends or a blind date, I love to enhance my beauty with my favorite products. When we girls gather, we are eager to learn the magic of cosmetics. We love how our cheeks turn into delicate rose petals. We discover beauty and glamour in this ever-glittering world of pinks and purples.
The power of makeup bestows young girls. From lip glosses to eye shadows, these products offer a canvas of self-expression and creativity. Are we certain that we are using safe products or affiliating with the finest cosmetic company? This is a big-bang question.
The impact of cosmetics on women is huge. Sometimes, it is not about the beauty, but an expression of confidence. Therefore, it is important to investigate the legitimacy of cosmetic companies and the quality of their products.
MLM and cosmetics
In recent years, the beauty and skincare industry has witnessed a surge in the popularity of multi-level marketing companies. While some of these companies offer legitimate opportunities, there is a dark side to the industry that consumers need to be aware of- cosmetic pyramid schemes. In this blog, we are delving into the landscape of skincare pyramid schemes, shedding light on their deceptive practices and providing guidance on how to distinguish legitimate MLMs from potential scams.
Understanding Cosmetic Pyramid Schemes
Have you ever wondered how people are dragged to illegal business opportunities? There is a psychology behind this. These companies play with common people's emotions and sell them for bigger prices. If we are promised a lifetime of success and fame, who will not fall into such traps? Pyramid schemes operate like this. It is disguised as a powerful business model that exploits the participant's money and efforts.
Cosmetic pyramid schemes, also known as beauty MLMs, operate under a business model that relies heavily on recruitment and hierarchical structures. Participants are promised financial success and glamorous lifestyles by selling products and recruiting others to join the downline. This emphasis on recruitment and complex compensation structures make these schemes inherently unstable, leading to financial losses and causing damage to the company's reputation.
How can we spot the red flags?
How can we find out that the companies exist on a pyramid scheme? While you are joining a company, approach it with skepticism and look for some hallmark signs. Let's dive into some of the signs.
Over-emphasis on recruitment: This is one of the telltale signs of a cosmetic pyramid scheme. Their overwhelming attention on recruitment rather than the actual product sales will give you a glimpse of doubt. In such schemes, participants are encouraged to build a team of recruits, often with promises of high commissions for every new member they bring in.
Exaggerated income claims: Watch out for lavish income guarantees that promise huge returns with little work. These assertions are frequently exaggerated and may induce people to make substantial financial commitments with no guarantee of return.
High-startup costs and Inventory purchases:Legitimate MLMs often have cheap initial expenses and don't demand exorbitant stock purchases from their members. Contrarily, pyramid schemes may force participants to purchase enormous amounts of goods, thus putting them under financial difficulty.
Lack of transparency: Lack of transparency should be noted. Legitimate MLM companies provide accurate and authentic information regarding their products and services, compensation plans, company history, track records, and so on. Pyramid schemes, on the other hand, are evasive and may withhold crucial details about their company's operations.
Products are overpriced or of Low quality:Some cosmetics pyramid schemes may offer products that are either significantly overpriced or subpar quality. This can make it difficult for participants to sell the products to consumers, further emphasizing the recruitment-driven nature of the scheme.
The Allure of Beauty MLM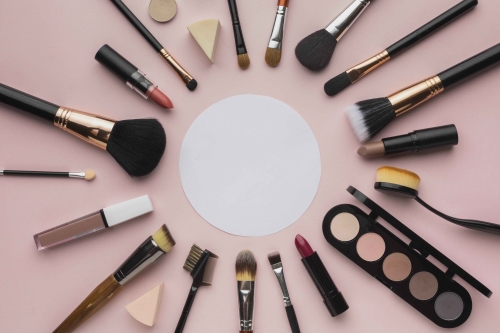 We, women, love a glamorous lifestyle, right? Beauty companies give life to our main character energy. Think about the character, poo from K3G. The dazzling intro of Kareena Kapoor is something you cannot forget. Everyone wants to be like her, who owns a wardrobe full of exquisite cosmetics.
Beauty MLMs promise lucrative earnings and a glamorous lifestyle to participants who sell products and recruit others into their downline. With the allure of working from home and the appeal of the beauty industry, many are drawn in by the potential for financial success.
The Perils of New Makeup MLM Companies
The competition between makeup companies intensifies as more markets are saturated with such companies. This can lead to an increase in the number of recruits and sellers. This fierce competition often results in financial strain, as individuals invest significant amounts of money more than they earn, leading to financial losses.
FAQs about cosmetic pyramid schemes
What is a cosmetic pyramid scheme?

A cosmetic pyramid scheme is a business model that relies heavily on recruitment and hierarchical structures. Participants are promised financial success by selling products and recruiting others into the scheme.

How do I identify a skincare pyramid scheme?

Look for an overemphasis on recruitment, high startup costs, and a lack of transparency about products and company history. These are red flags that may indicate a skincare pyramid scheme.

Are all MLMs cosmetic pyramid schemes?

No, not all MLMs are pyramid schemes. Legitimate MLMs focus on product sales, offer fair compensation plans, and provide training and support for their distributors.

What are some of the best MLM makeup companies?

Reputable MLM makeup companies include established brands like Avon, Mary Kay, and Arbonne. It's crucial to research and choose companies with a track record of success and integrity.

What are some of the best MLM makeup companies?

Reputable MLM makeup companies include established brands like Avon, Mary Kay, and Arbonne. It's crucial to research and choose companies with a track record of success and integrity.

What are the dangers of participating in a cosmetic pyramid scheme?

Participants in cosmetic pyramid schemes often face financial losses due to high startup costs and recruitment-based

MLM compensation plans

. Additionally, it can strain personal relationships when participants are encouraged to recruit friends and family.
Conclusion
Beauty World is unstoppable. Let's make choices through open communication and guidance and create a world of adventure, dreams, and love. Beauty is confidence, self-expression, care, and quality. By recognizing the red flags and conducting thorough research, individuals can protect themselves from falling victim to cosmetic pyramid schemes and make informed decisions about their involvement in MLM ventures.
Visit our website and discover our write-ups that explore unique and relevant topics. We are happy to assist you and clear your doubts regarding the Network Marketing niche. Whether you are a beginner or a successful entrepreneur, our services are available. Stay tuned for more updates.